Happy Furry Puppy Time
AKA Friday Cat/Pet Blogging...
My canine cuties!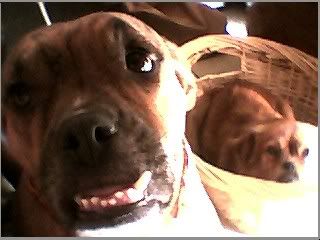 Petunia, (in front) is 3 years old. She's pitbull/boxer mix, who loves ice cream,(honestly she'll eat darn near anything) and chasing cats (sorry cat lovers, but we do keep her on a
tight
leash). Until she catches them, then she runs like the wind in the other direction. Gives new meaning to big wussy! She's the most loving, sweet canine child we've ever had the honor of having in the family.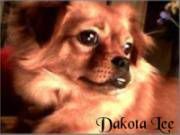 Dakota is 3 years old also. She's a pomeranian/peekineese mix. She too loves ice cream, but loves her boy friend Thumper The Humper next best (he's a neighbor's chihuahua). Thumper comes acourtin bright & early every morning. Watching them together is much fun. Petunia is not so fond of Thumper. She will nip at his tail given the chance.