HAPPY NEW YEAR!!
2006--Year of the Dog
At my house, every year is the year of the DOG.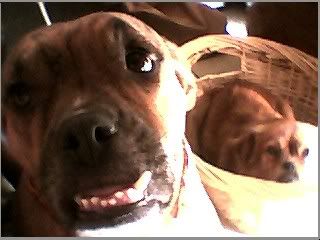 These are my [DOG] babies, they're just so darn cute, don't you think?
People born in the Year of the Dog possess the best traits of human nature. They have a deep sense of loyalty, are honest, and inspire other people's confidence because they know how to keep secrets. But Dog People are somewhat selfish, terribly stubborn, and eccentric. They care little for wealth, yet somehow always seem to have money. They can be cold emotionally and sometimes distant at parties. They can find fault with many things and are noted for their sharp tongues. Dog people make good leaders. They are compatible with those born in the Years of the Horse, Tiger, and Rabbit.
As for me,
I'm a Rooster.
People born in the Year of the Rooster are deep thinkers, capable, and talented. They like to be busy and are devoted beyond their capabilities and are deeply disappointed if they fail. People born in the Rooster Year are often a bit eccentric, and often have rather difficult relationship with others. They always think they are right and usually are! They frequently are loners and though they give the outward impression of being adventurous, they are timid. Rooster people's emotions like their fortunes, swing very high to very low. They can be selfish and too outspoken, but are always interesting and can be extremely brave. They are most compatible with Ox, Snake, and Dragon.
Whatever you are (you can find out
here
). I wish you and your's a Happy New Year's. May the upcoming year be filled with joy, happiness, hope and prosperity for you. May your lives be spiritually enriched. May those who seek it find love. May those who need it be granted good health. May we all be graced with compassion for our fellowman. And may God bless the world.